Mnemba Island Lodge: Our View
According to Conde Nast, this is one of the top three most romantic beach destinations in the world! There is no doubt that the place is amazing and home to what is the best beach in Tanzania; the pinnacle of barefoot luxury. We have never had a complaint from any client who has gone to Mnemba and considering the price tag, that is an unbelievable record. If you can afford it, this is the place to be, end of discussion.
Mnemba is undoubtedly one of the best beach destinations in the world, let alone Africa. It can only get 5 palms.
Mnemba Island Lodge: Fast Facts
$1,500 per person per night (high season)
10 beach front rooms
A paradise island!
All inclusive lodge including 2 dives a day
Tanzanias finest beach
Mnemba Island Lodge: The Detail

Mnemba Island is Africa's most famous beach lodge. This paradise little island, with a small forest and bizarrely a number of small antelope at its heart, sits off Zanzibar's North East tip. A car journey and a short boat ride (right onto the beach) take approximately 1.5 hours from Stone Town or Zanzibar airport.

Seemingly lost from the Maldives, Mnemba Island is surrounded by world class snorkelling and diving and unquestionably has Africa's finest beach; it is as good as any you will ever see. With only ten rooms the island is very small in size, but is very well laid out. Taking approximately 30 minutes to walk around its circumference, the islands main communal area sits at the front of Mnemba with rooms scattered to either side. The lodges water sports and dive centre sits just back with the shop, reception and internet rooms. The result is that over half the island remains completely untouched – no rooms, no bar, just an impeccable beach and a truly turquoise ocean.

The rooms themselves are made from canvas, grass and reed. They are designed in a style which takes nothing away from the stunning location. Hidden out of view from the beach or sea, each of Mnemba's eight rooms have a porch area with comfy sofas and foot baths. Up a couple of steps the bedrooms open up directly behind the porch with huge sumptuous beds overflowing with comfy cushions and rugs. Behind the bed a partition opens up to the wardrobes and storage areas before a small corridor takes you to the rooms stunning en-suite bathrooms.

What is surprising about Mnemba is how many different activities you can do whilst on the island. The lodge can obviously arrange any activities on mainland Zanzibar, but from the island itself it is possible to snorkel, dive (they have a full operational PADI dive centre), explore the seas on their own local sailing dhow, sail, windsurf, fish with the locals and flyfish from Mnemba's beach itself.

There is no doubt that this lodge is a huge amount of money. But with numerous accolades, ranging from most romantic destination on the planet to best beach hotel in the world, Mnemba Island can back up the expectations of clients.

Mnemba Island Lodge: Client Reviews
I guess this has to be the perfect ending, the pictures pretty much sum it up as a lost Maldivian Island and that's exactly as it is. A luxurious stay with everything you'd expect from a 5 star experience. Friendly staff intent on making the feel of a private Island as private as you want it to be. Superb diving and private dining.
C&P Monksfield 2011
Having visited everywhere in Africa, I went to Mnemba with the expectation that this was a lodge overpriced. The likes of Vamizi, Benguerra, Quilalea, Palms, Kilindi etc all come in under the $1,000pppn price bracket, which Mnemba eclipses by a further $500pppn. I arrived and was astonished at the quality of this little island; our stay on Mnemba was faultless. Without any doubt the most expensive lodge in Africa, but in my view quite easily the best!
Julian (Africa Odyssey)
Click here to see all reviews and testimonials

Mnemba Island Lodge: Latest News
Mnemba Island Lodge
: JUVENILE HONEYCOMB MORAY
14 Oct 2012
The honeycomb moray is one of the largest morays living in this area. This juvenile one has been on the house reef, preying on small reef fishes until it reaches maturity and will then move to deeper waters. Something interesting to know about morays, is that, because they don't have gills, they ...
Show me more >
Mnemba Island Lodge
: MNEMBA'S FIRST SEAHORSE
3 Oct 2012
We were really excited to find our first seahorse here in Mnemba. The little guy was slowly drifting away from the house reef and he has been hiding in his patch of seagrass for the last week, which provides him with food and protection. Photo credit : Ross MacLeod
Show me more >
Mnemba Island Lodge
: WELL CAMOUFLAGED INDIAN OCEAN WALKMAN
5 Sep 2012
The Indian Ocean Walkman (Inimicus didactylus) is probably the most curious looking fish we have in the area. If you are lucky enough to see him moving around, you would notice that it looks like he has legs which he is crawling around with. These so-called legs are actually two rays of his ...
Show me more >
Mnemba Island Lodge
: JUVENILE BATFISHES ON HOUSE REEF
31 Aug 2012
All our snorkelers and divers have been admiring these three juvenile orbicular batfishes ( platax orbicularis) hovering on the house reef and seeking a bit of safety. They are feeding on seagrass and building their strenght before joining a big school of adults in more open waters at greater ...
Show me more >
Mnemba Island Lodge
: RED KNOB SEA STAR
26 Aug 2012
Found this little guy not to far offshore. Often times they will get caught to high in the sand while the tide is going out and end up with a sun tun. The do however seem hardy enough that it doesn't seem to bother them all that much.
Show me more >
You may also like
Zanzibar, East Coast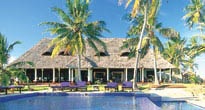 Definitely the most luxurious small lodge on Zanzibar. The lodge has the best rooms on the Island for those of us who want all the creature comforts and also has seriously great food and service.
Zanzibar, East Coast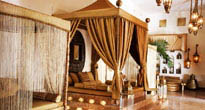 Baraza is luxurious all inclusive 30 bedroom hotel located on the South East coast of Zanzibar next door its sister hotels, Palms and Breezes. Lovely food with a choice of bars and restaurants to eat in, one of the best spas on the island a great hotel for both the honeymooners and the family.
Quirimbas Archipelago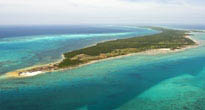 Set on a vast beach that competes with anywhere in the world, Vamizi consists of 13 extravagant rooms spread at one end of a 7km long beach. Rooms are huge with massive four poster beds, open lounge areas and huge bathrooms