Without doubt, the sexiest aspect of a Seychelles holiday is bagging an island almost to yourself. These scattered islands of various sizes have glorious tropical forests, woodlands and beaches unspoilt by the rigour of the modern world making it an ideal setting for an African honeymoon.
There is some good accommodation on the main central islands of Mahe and Praslin, but the best Seychelles itineraries use these islands as a bouncing point to a truly exclusive island. This is always a fabulous itinerary, but also always expensive.
Magic of the Seychelles
Hundreds of miles from their nearest neighbours, the Republic of Seychelles is made up of 115 islands in the middle of the Indian Ocean. This is an extraordinary archipelago of legendary beauty; a natural paradise of fabulously fair weather, mercifully free of malarial mosquitoes. The Seychelles archipelago has a cluster of inner, 'granitic' islands clustered around Mahé, and the capital, and its satellites Praslin and La Digue. These 'inner islands' form the cultural and economic hub of the nation and contain the majority of Seychelles' tourism facilities as well as its most renowned beaches. It is worth noting that ALL the Seychelles beaches are public, and only the most remote and inaccessible sands will be deserted.

Seychelles Geography, Climate and Culture
Unique in geography, climate and also culture, these islands have a wildly colourful storybook history of spies, pirates and shipwrecked sailors that has brought about the integration of European, African, Indian, Arab and Chinese islanders with a heady Creole culture. The islands are still pretty hard to get to...there are currently no direct flights, but Air Kenya flies from London via Nairobi, for those seeking to tie in an East African safari.

High quality, Low-impact Tourism
The Seychellois - keen to preserve the character and natural beauty of their island home - have encouraged low-impact, high quality opportunities for holidays here. Today the result is an inspiring choice of small and absolutely private island hideaways, with their own deserted beaches and sandy pathways to be explored blissfully alone, in dreamy seclusion. We believe that these top-end exclusive islands are worth paying the full amount for, but that the middle bracket is very expensive and questionably worthwhile.



Seychelles featured lodges:
Other Islands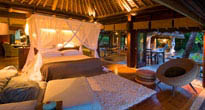 The latest private island lodge to open in the Seychelles, and at a price that eclipses even Fregate. This is the top location in the Seychelles, though very deep pockets are needed to stay there

Mahe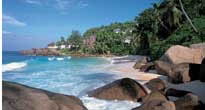 When the Banyan Tree first opened it was one of a kind, huge private suites complete with a private pool, terrace and gardens. In fact you rarely needed to leave your room. Set on a heavenly and private beach its only drawback is the price and the fact that in our summer months the main beach can be dangerous to swim off.

Praslin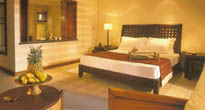 Lemuria is a superb hotel. Recently bult and bringing with it a very Mauritian feel this hotel is wonderfull for honeymooners, families and golfers alike. the hotel's private beach - Anse Georgette - is simply staggering and one of the best in the Seychelles