Kruger National Park and Sabi Sands Game Reserve are two of South Africa's most prized safari destinations. Due to their close proximity to one another, we are often asked what's better and what's the difference between the two?
Kruger National Park is South Africa's oldest, largest and best known National Park. It is claimed as a favourite safari destination by both locals and international visitors, some who return to its wilderness yearly. The Sabi Sand Game Reserve is adjacent to Kruger and shares an unfenced border with the National Park. It is one of the most popular neighbouring private reserves and, together with a few others, forms part of the Greater Kruger National Park. While this is valuable information for you to know, the animals are completely unphased and freely roam between the two.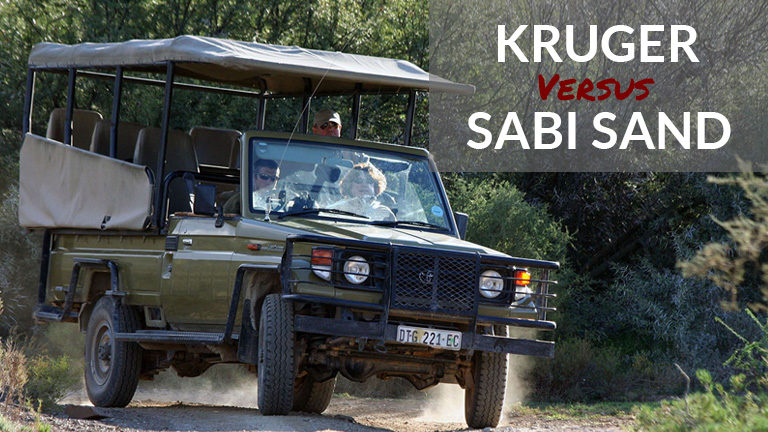 When a planning a safari holiday to South Africa, the decision usually comes down to Kruger versus the Sabi Sand. Knowing that both are world-renowned and home to the 'Big 5' makes the decision that much harder.
Here is everything you need to know to make an informed safari decision:
1. Kruger National Park Size
Kruger National Park is massive and covers over 2 million hectares of wilderness, which is approximately 30 times the size of the Sabi Sand Game Reserve. Its land coverage is almost as big as Belgium and because of its grandiose size and sheer numbers of animals, you could visit the park a hundred times and still discover new flora and fauna. With that being said, the Sabi Sand's smaller size makes it easier to track wildlife, increasing your odds of ticking the 'Big 5' off your bucket list in a shorter time span.
2. Kruger Access | Sabi Sands Access
Day visitors and self-drives are allowed in Kruger National Park and not in the Sabi Sand. Only those staying at one of the private safari lodges are permitted access to the Sabi Sand Game Reserve, limiting the number of tourists coming in and providing a more exclusive game-viewing experience. Kruger can become very crowded, especially during peak season, but if you're an experienced safari goer, the flexibility of being in charge of your schedule, game drive routes and movement can be a real bonus.
3. Kruger National Park Prices | Sabi Sands Prices
Accommodation in Kruger is extremely affordable compared to its counterpart. You can find public camping sites and self-catering options as well as some luxurious lodges, while the Sabi Sand is most commonly home to Africa's premier safari lodges, including Singita's Ebony and Boulders as well as Londolozi Founders and Richard Branson's Ulusaba. A guided open vehicle safari in Kruger will generally cost much less than a similar safari at a luxury lodge in the Sabi Sand, yet the game drives in the Sands are included within the accommodation price.
4. Safari Vehicles
While both Kruger camps and Sabi Sand lodges offer guided game drive activities, one of the advantages the Sabi Sand Game Reserve has over Kruger is that the guides have permission to drive off-road in order to track animals and get closer to wildlife. The guides and trackers are some of the best in the safari business, affording guests the rare opportunity to witness up-close sightings you wouldn't normally get to see 'on the road.'
A big difference between South African safari vehicles and other parts of Africa is that the safari vehicles are all open sided, with or without a roof. If you however self-drive in Kruger, you cannot do this in an open vehicle giving you a more enclosed experience than if you were to stay in the Sabi Sands. Click here to find out more about the vehicle you could be travelling in.
5. Safari Activity
Both the National Park and the Sands offer a multitude of other activities including walking safaris and night drives, however there is one big difference: intimacy. If you were to take a night drive in Kruger National Park, the likelihood is that you will be accompanied by twenty other guests and loaded into one big truck which makes an enormous amount of noise and can scare off the more skittish creature. In the Sabi Sands though, you will have your personal guide and possibly a couple of other guests in the vehicle with you. This allows for a much more intimate experience.
A favourite thing to do by everyone on safari is to have 'sundowners'. This consists of stepping out of the vehicle, having a cold drink with some snacks whilst watching the sunset from a beautiful vantage point. This can only be done on private reserves like the Sabi Sands and often guides will show you some of the smaller things in the area or maybe get you to take part in some bush games. In the National Park, strict rules are in place that prohibit people stepping out of their vehicle unless in a designated area. The fact that all self-drives must be in their camps at the allotted 'gate-closing time' also prevents the freedom of having 'sundowners'.
6. Wildlife Viewing
Whilst the National Park has an abundance of wildlife from North to South including all of the 'Big 5', the sightings are often shared with multiple cars which can often cause traffic jams, especially for the cats! The Sabi Sands on the other hand has far stricter regulations at animal sightings that are controlled by the guides who have radio contact with each other. The Sands however, are world famous for their unique leopard sightings. Through years of habituation and careful game viewing, the normally shy and elusive leopards have now become almost oblivious to the game viewers and this attitude has been passed on through the generations. This has allowed photography opportunities that you wouldn't get anywhere else in the world.
The freedom that the National Park offers is that when you self-drive you can do what pleases you. You can wake up when you want to and if you so wish, sit at a waterhole all day waiting to see what comes down to drink.
The Decision
Both of these options are fantastic when combined with a trip to Cape Town and while the Kruger National Park offers something for everyone, the Sabi Sand Game Reserve fills the luxury travel niche for safari goers looking to visit South Africa. If you simply can't choose between the two, why not choose to have a combination of both? Contact us and we can help to plan your perfect South Africa safari holiday.